Thought I'd link up with a Sunday Currently since I'm sitting here at home, lounging on the couch during this snow/ice storm! I stumbled across this one today and it sounded fun! Go check it out!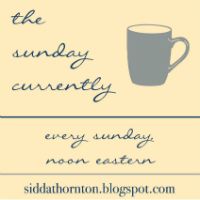 R E A D I N G
Allegiant
from the Divergent Trilogy. And
The Fall of the Governor,
one of the Walking Dead books. I started
Allegiant
a while ago, but didn't want to take that big hardcover on the plane with me so I downloaded the other on my Kindle. Need to finish both of them!
W R I T I N G
this blog post?!? Other than that nothing today. Being lazy and NOT writing lesson plans!
L I S T E N I N G
to Christmas music lately! :) It makes me happy!
T H I N K I N G
that I'm glad I got out of the house and took a snowy, two mile walk today.
S M E L L I N G
all of the Christmas candles I had burning yesterday. Still smells good in here!
W I S H I N G
for a snow day tomorrow!
W E A R I N G
leggings and a comfy sweatshirt.
L O V I N G
the Ghirardelli peppermint bark with dark chocolate squares I splurged on today!
W A N T I N G
the next 12 days to fly by!
N E E D I N G
to get our Christmas cards in the mail.
F E E L I N G
great about my 5k last night.
C L I C K I N G
weather.com to keep checking on the snow/ice situation. And my school email in hopes of some early news.
What are YOU currently doing?